TARKINAID summary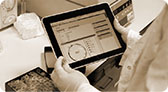 Chronic autoimmune and inflammatory diseases such as rheumatoid arthritis or chronic inflammatory lung diseases are severe and devastating conditions that strongly impair the quality of life of the affected individuals and are a major burden to health care budgets and the entire society.
Despite significant efforts aimed at the understanding and treating those diseases, current therapeutic options are still very limited due to major side effects and very high costs. Therefore, development of novel therapeutic strategies for the treatment of chronic autoimmune and inflammatory diseases is a highly important research priority on ERP

Src-family kinases are nonreceptor tyrosine kinases involved in diverse biological functions. Their role in cellular proliferation and invasion, the high frequency of activating mutations in Src-family kinase genes in tumors and the presence of their oncogenic variants in oncogenic viruses indicated a role of those kinases in malignancies. Those findings also triggered significant efforts aimed at therapeutic targeting of Src-family kinases in human cancer and resulted in the development of several small-molecule Src-family kinase inhibitors that showed very positive effect in human oncology patients during the last several years. Src-family kinases are also involved in various functions of immune cells but their role in inflammatory diseases and the possibility of their therapeutic targeting in those diseases have not yet been widely appreciated.
Project focus
The TARKINAID project aims to develop novel small molecule anti-inflammatory compounds based on the inhibition of Src-family kinases in inflammatory cells. The core part of the TARKINAID project is the pre-clinical analysis of novel Src-family kinase inhibitors in various animal models of chronic autoimmune and inflammatory diseases. That core part will, however, be supported and preceded by a series of in vitro and additional initial in vivo assay to predict and optimize the most promising inhibitors and to test their safety and pharmacokinetic characteristics.
Preliminary studies performed by TARKINAID consortium members clearly indicate a previously unappreciated and mostly unanticipated role of Src-family kinases in various aspects of autoimmune inflammatory diseases, suggesting that those kinases may be suitable therapeutic targets for the therapy of chronic autoimmune and inflammatory diseases. In addition, the TARKINAID consortium has already developed and selected a significant number of novel compounds that may serve as suitable early lead molecules for the development of anti-inflammatory drugs based on pharmacological inhibition of Src-family kinases. The TARKINAID consortium has also developed a large number of in vitro and in vivo model systems to test various aspects of autoimmune inflammatory processes. These preliminary observations provide the basis for the TARKINAID project. The fact that the above initial studies on the role of Src-family kinases in inflammatory diseases and the initial selection of the above compounds have not yet been publishes provide a major competitive advantage for the TARKINAID consortium during the development of Src-family-targeted anti-inflammatory therapeutics.
The TARKINAID consortium has very extensive experience with the development of small molecule kinase inhibitors, inflammation-related in vitro functional studies on leukocytes and the analysis of in vivo inflammatory disease models in experimental animals.
TARKINAID consortium consists of eleven members (including four SMEs) from six different countries. To develop a network between European and Brazilian immunologists, two group leaders are from Brazil. To promote research in Eastern-European countries, the coordinator and one SME are from Hungary.
| | | |
| --- | --- | --- |
| | This project is supported through Coordination Theme 1 (Health) of the European Community's FP7. Grant agreement number HEALTH-F4-2011-282095. | |